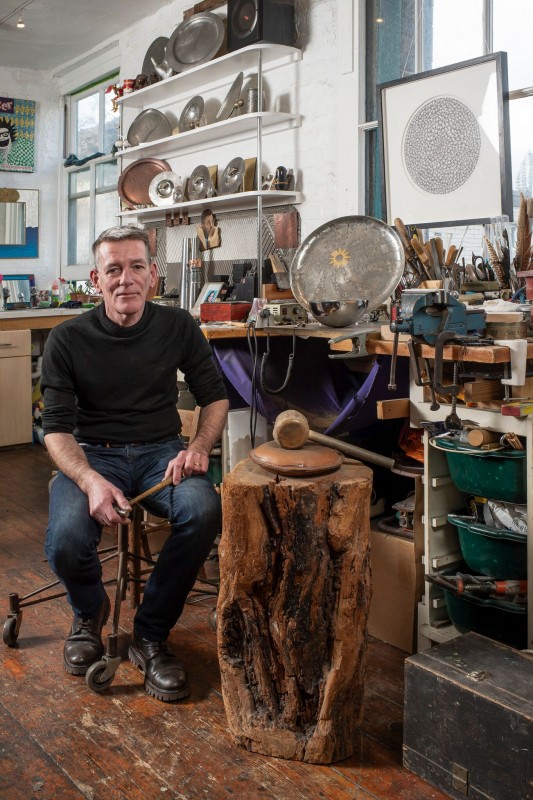 Photograph by Julian Calder

Gordon W Robertson

Gordon W Robertson is a Scottish artist and metal-smith based in London, where he works in pewter, brass, copper, steel, zinc, silver, textiles and print. Gordon fuses traditional artisan techniques with his own unique methodology, specialising in hand-etched surface.
His work is highly tactile and textural, providing a sublime accent to both tradtional and contemporary luxury interiors. Forging organic, intricate patterns inspired by nature and abstract geometry, Gordon's designs are timeless and eminently collectable.
As both master craftsman and designer, Gordon creates imaginative and exquisite tableware, furniture and paneling, working closely with the client to realise their specific aspirations.
His work is in the collection of The Worshipful Company of Pewterers, with whom he is a freeman, The Neish Pewter Collection in The Smith Museum, Stirling, Scotland and many private collections. He was awarded a QEST (Queen Elizabeth Scholarship Trust) Scholarship in 2013 and formed a partnership with AR Wentworth Pewter, Sheffield. QEST selected him to exhibit in the Summer House, Buckingham Palace during the Queen's 50th Coronation celebrations. He is a member of the ABPC (The Association of British Pewter Craftsmen)
Clients include Martin Kemp Design, Interior ID, Anglo American, The Lord Mayor of London; Sir Andrew Parmley (2016-17) and Sir Peter Estlin (2018-19), The Worshipful Company of Gunmakers, The Worshipful Company of Vintners and The Worshipful Company of Information Technologists.
Awards include first prize; Pewter Live 2012 and 2013, The Neish Pewter Award 2012, 2013 and 2019. QEST Scholarship 2013.
The blog page will have regular posts about up and coming events and exhibitions. Gordon has a bi-annual open studio event usually on the first weekend of June and December which you are more than welcome to visit and he will be exhibiting and selling his work at the next Pewter Live Competion 2022 this a ticketed event available here(https://www.eventbrite.com/cc/pewter-live-2022-233409) open to the public on 17th - 19th, 11am - 3pm each day.